Dulles International Airport
Quick Airport Statistics and links: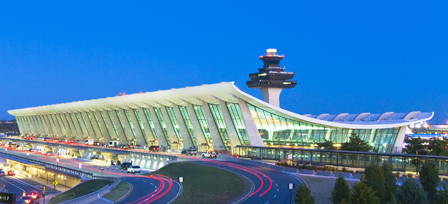 About Washington Dulles International Airport:
Washington Dulles International Airport (IAD) is located in Chantilly, VA on 12,000 acres of land 26 miles from downtown Washington, DC. The Main Terminal opened in 1962 and was designed by architect Eero Saarinen. Dulles is a major hub for domestic and international air travel with a mixture of legacy and low fare carriers that provide air service throughout the world. Flights operate from midfield concourses A, B, C and D and from Z-gates connected to the Main Terminal. The Airport has invested in its infrastructure through a major construction program called D2, Dulles Development, which included two parking garages, a new airport traffic control tower, expanded B-gates, a new fourth runway, an automated people mover system called AeroTrain and an expanded International Arrivals Building. The airport is connected to the region's highway system via an Authority-operated, 16-mile Airport Access Highway dedicated to airport users. A 23-mile expansion of the region's Metrorail system is planned to reach Dulles in 2018.
Dulles has significant capacity for future growth. With minor expansion, the current facilities could accommodate 45 million annual passengers (22.5 million enplanements). With all future facilities in the master plan constructed, the airport could accommodate 70 million annual passengers (35 million enplanements) operating out of 250 airline gates. The current four-runway configuration has a capacity of up to 600,000 aircraft operations per year. With a future fifth runway constructed, the airfield capacity could increase to 1 million aircraft operations per year.
More Details and Links
Air Traffic Statistics
See data showing aircraft operations, passengers, mail, and freight statistics for every year in the Airport's history. This page also has links to more detailed passenger and operational data for every month and year dating back to 2000.
Dulles Environmental Studies
This page has links to detailed studies performed in advance of several construction projects at the Airport.
Directions and Maps:
Air Cargo
Dulles offers air cargo services to airlines, forwarders, and shippers. Dulles also has extensive international air cargo capabilities from an air service perspective.
History
Read about the evolution of Dulles Airport from its beginning through today, to the vision for its future. There is also a timeline which highlights significant events in Dulles's history.
Facts
Learn specific information about the many facilities within the Dulles Airport property.
Dulles Airport Photo Galleries
This is the best resource available for viewing and downloading photographs of Dulles from the Airport Authority's archives.
National Air and Space Museum, Steven F. Udvar-Hazy Center at Dulles
Located just a few miles from the Main Terminal. More information is available: