Dulles International Airport
Electric Vehicle Charging Stations at Washington Dulles International Airport
Dulles International Airport has four electric vehicle (EV) charging stations on Level 3 of Parking Garage #2. They service eight parking spaces which are convenient to the walkway connecting the garage to the Main Terminal. The spaces are reserved for "electric vehicles only" with special signage.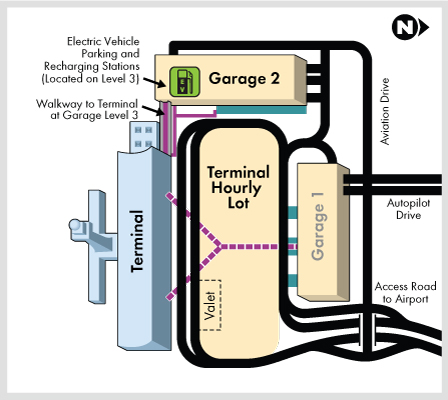 The charging stations feature two types of charging: Level 1, which is a 120-volt outlet, and Level 2, which is a 240-volt connector. The station is activated onsite via ChargePoint smartphone app, ChargePoint "Charge Pass," RFID-enabled credit card (free - for identification purposes only) or toll-free call to a 24/7 service center. To contact the service center for assistance, call 1-888-758-4389.
There is no fee to use the stations, but regular parking rates apply as you exit the garage. The charging stations are available on a first-come, first-served basis.
Click here for EV charging stations at Reagan National Airport