Travelers Information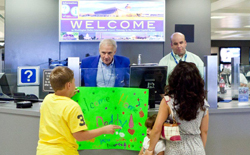 If you need assistance while coming through our Airport, be sure to seek out one of our convenient Information counters staffed by Travelers Aid volunteers. You'll find them in the:
| Main Terminal | Concourse |
| --- | --- |
| Arrival/Baggage Claim Level near baggage claim numbers 6, 11, and 14. | Concourse A, near Gate A15 (entrance/exit to AeroTrain station) |
| Just beyond security checkpoint | Concourse B, near Gates B62 (entrance/exit to AeroTrain station) |
| | Concourse C, near Gate C17 |
| | Concourse D, near Gate D16 |
Interested in volunteering? Please call 703-572-7350, or you can send an email to: volunteer@mwaa.com.
Paging
If you are looking for someone in the Airport's Main Terminal, Concourses A, B or Z, you may visit the Information Counters located near bag claims 6, 11, and 14 to have that person paged. You may also call (703) 572-8296. Paging may also be arranged by contacting the airline on which the customer is arriving or departing.