Quick Links
Welcome to Dulles Toll Road - Virginia Route 267
What's New
THANK YOU to everyone who helped us celebrate 30 years of service for the Dulles Toll Road. Drive safe and use those E-ZPasses!
Construction Advisories
E-ZPass Lane Conversion Work Shifting to Hunter Mill Road Exit
To ease congestion and increase convenience for drivers, 19 toll-lanes along the Dulles Toll Road will be converted from "exact change" to "E-ZPass only" over the next year. The eastbound conversion of the 3rd lane from the left at the main toll plaza to "E-ZPass Only" has been completed.
During the conversion project, coin baskets will be removed and replaced by upgraded E-ZPass infrastructure.  To minimize congestion, lanes will be reconfigured one at a time, with each conversion taking two to four weeks.  When the project is complete, all toll plazas will still have at least one "full service" lane available.
Conversions are scheduled for unattended "exact change" lanes at the main toll plaza and exit ramps along the roadway.
Work Commencing:
| | | | |
| --- | --- | --- | --- |
| Beginning Date | Direction | Location | Lane |
|   Nov. 24 |   Westbound |   Hunter Mill Road |   Far Right |

Click here or on map for a larger image
Next Up (upon completion of previous work):
| | | | |
| --- | --- | --- | --- |
| Beginning Date | Direction | Exit | Lane |
|  (TBD in December) |   Eastbound |   Hunter Mill Road |   Far Right |
Follow Twitter @Dulles_Toll_Rd or Facebook /DullesTollRoad for updates on construction.
Toll Road Services
Click on a button below for more information.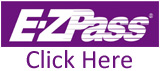 Follow @Dulles_Toll_Rd on Twitter for information about the Dulles Toll Road. Follow @Dulles_Airport (use airport code hashtag #IAD) for information about Dulles International Airport and @DCAirports for general updates about Reagan National and Dulles International from the Metropolitan Washington Airports Authority.